Four Days Marches perspectives
Yet another edition that went exactly according to plan – for the participants, for the staff, and for those who were closely connected to The Walk of the World in some other way. Below you can read the perspectives of a few of these people.
From the perspective of... the youngest
Eleven-year old Selina de Vries was the youngest participant in this year's edition. And she made it, without pain or bother. Selina was one of the members of the youth walking group #Vteam. What did she think of the Four Days Marches? 'It was fun.' She doesn't know if she'll take part again next year though. 'Because the partying also seems like a lot of fun too,' Selina explains. Living in Elst, one of the towns along the route, Selina was already familiar with the Four Days Marches, but what she did not expect was that '...so many people join in. That's brilliant, everyone together'. She especially likes the music in the villages along the way. 'That really helped when it was getting a bit tough.' What's more, 'I felt a bit like a celebrity thanks to all the attention I was getting.'

Now that she has earned her medal, she is extremely proud. And, thinking about it a bit more, she may just forgo the partying next year. 'My mother walked with the armed forces in the Four Days Marches in 2002; it would be fun if we would both walk together for our second time next year.'
From the perspective of... the oldest (but one)
Ah, dear Mr Joop van de Paverd. At the age of 92 he was going for his 40th medal. Unfortunately, it was not to be: a gluteal strain threw a spanner in the works. Joop: 'After the first day of walking, which went really well, I felt it shoot through me when I went to sit down. I did start out on the second day, but soon realised that it just wasn't going to happen. Such a shame!' And this while there is nothing wrong with his physical condition; the former sports teacher and football coach walks year round, also during other multi-day events. He also does his stretching exercises every day without fail. 'And three times a week I walk up and down the 13 flights of stairs in my block of flats. I get my exercise, and I plan to keep doing that.' That alone deserves a resounding round of applause. We hope that we can welcome Joop again next year, and that we will then have the honour of presenting him his 40th medal.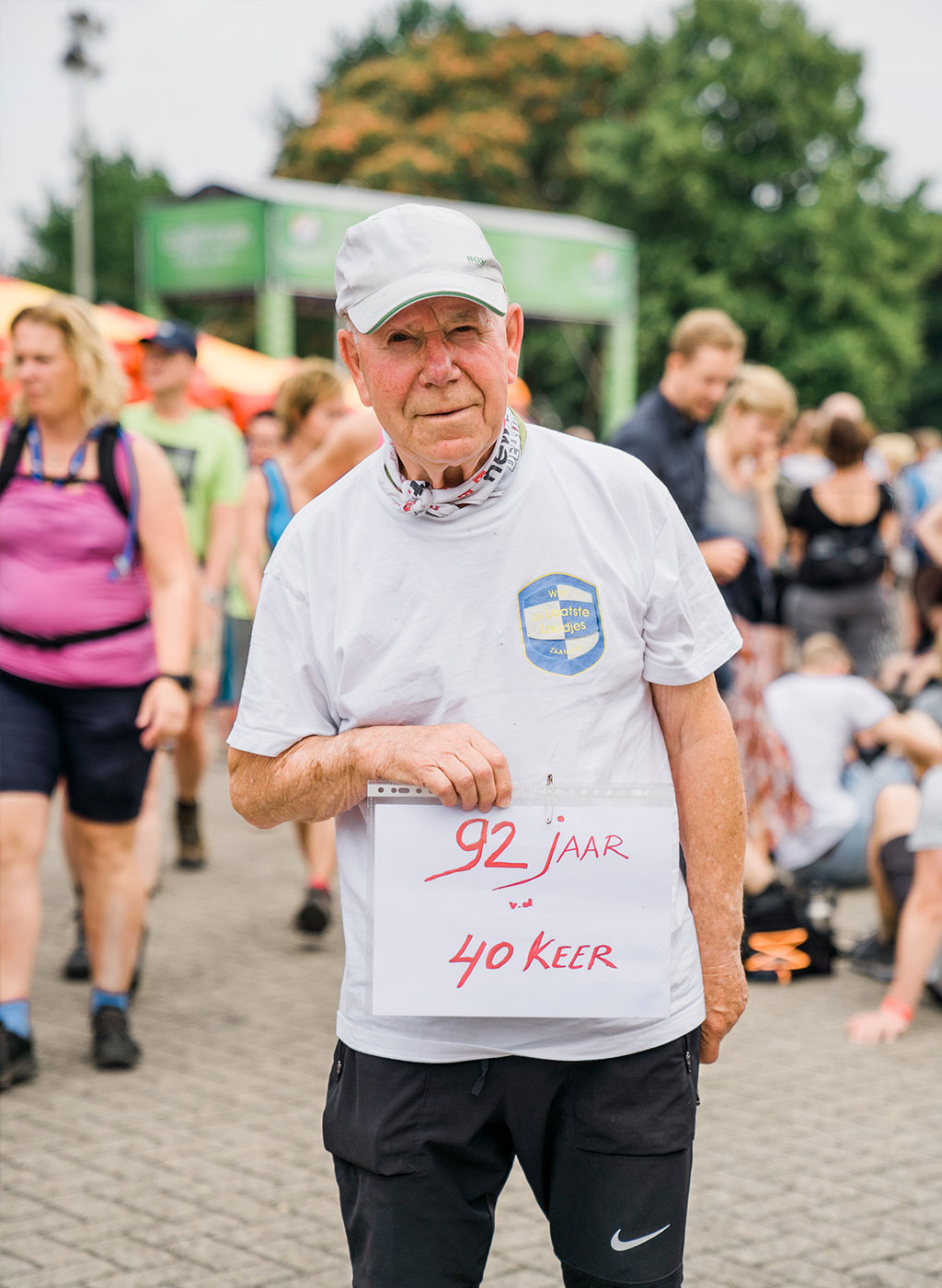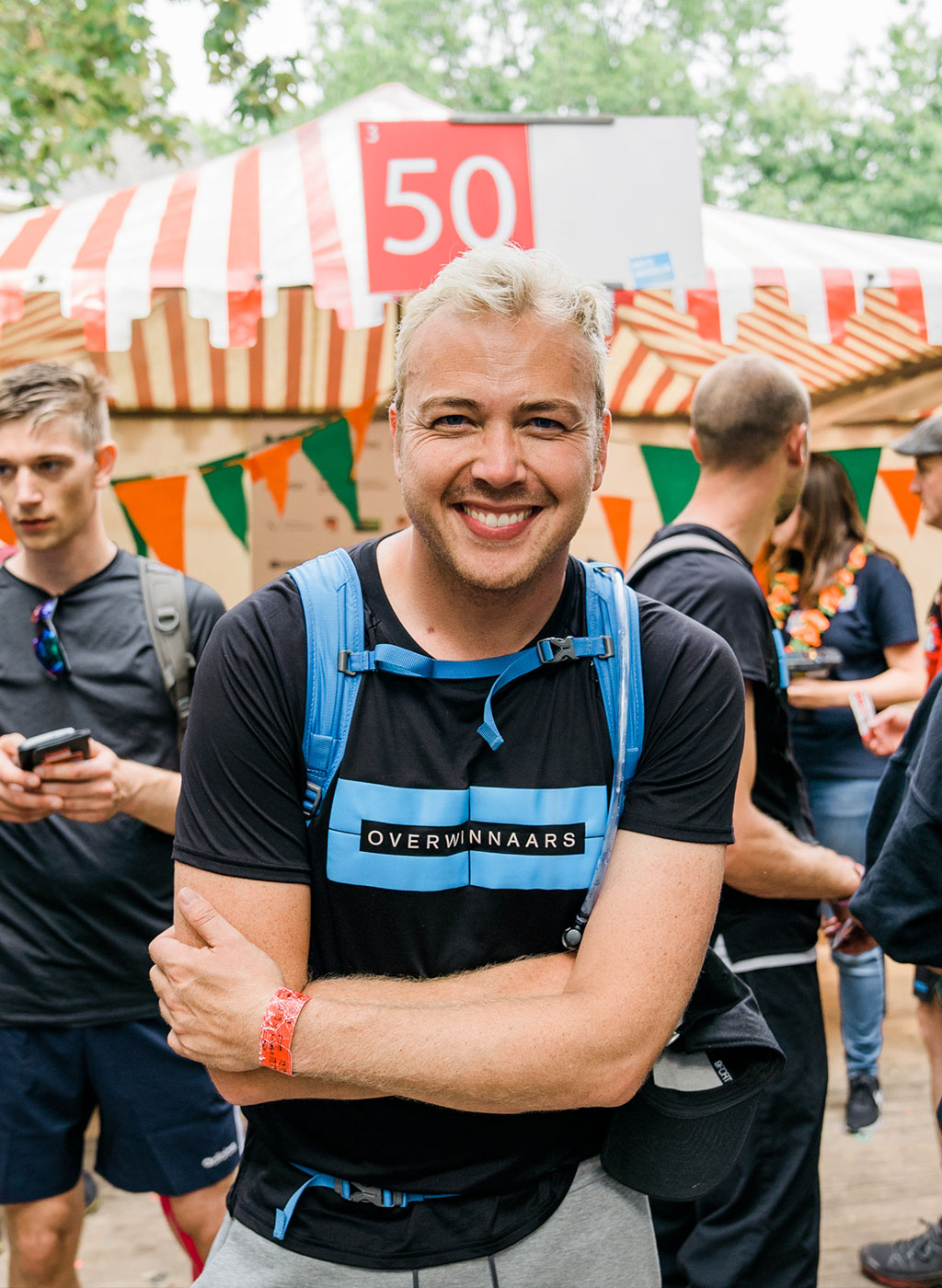 From the perspective of... Jamai
'Really special, and terrible at the same time.' That's how Jamai Loman summed up the Four Days Marches. The photo above was taken after the finish on the third day. That very morning Jamai, who was raising funds for patient-support charity Stichting Overwinnaars, had asked himself: 'Can I really do this? Do I really want to?' Jamai: 'I had not expected so much pain. This event really brings you face to face with yourself.' This confrontation proved that Jamai is a real go-getter: walking 50km four days in a row is already a top achievement, but add to that having to take immunosuppressants after having a kidney transplant.
Chats with fellow walkers offered him some distraction during the more difficult moments. "A lot of people wanted to know about the charity. Others told me about the difficulties they have faced with getting your life back on track after a serious illness.' So, there's no lack of work for the charity. Asked if he will be joining in again next year, Jamai says, 'When I think of all those lovely supporters along the way, my immediate instinct is to say "Yes!". But can I hold off giving a definite answer for now?' Yes, you certainly can Jamai. We'll simply say, till we meet again in Nijmegen.
From the perspective of... the Omanis
While Mawada Al Ismaili came over from Oman especially for the Four Days Marches, Aziz Riyami has been living in the Netherlands for two and a half years. Aziz inspired Mawada to participate in the event: since he took part for the first time last year he hasn't stopped talking about it. 'Four days of walking, a whole year's enjoyment,' says Aziz, who sees the Four Days Marches as the perfect way to integrate. 'The hospitality is incredible. What happens throughout the region is a real education. Schools could easily include the Four Days Marches in their curriculum as is.'
Mawada also thinks that's a good idea. 'Fellow walkers asked me all sorts of questions, like "So, you're the first Muslim woman in this event?" to which I answer, "No. I'm the first Omani woman to take part." Or: "Are woman allowed to take part in sports in Oman?" Ah, yes. It's nice to see all the interest.: it's important to tell others about your country.' After all, the picture the Dutch have of Oman is no more true than what the Omanis think about the Netherlands. So, aside from all the support, enthusiasm, and positive energy, the Four Days Marches is also such a wonderful event for Aziz and Mawada: you can learn so much from each other.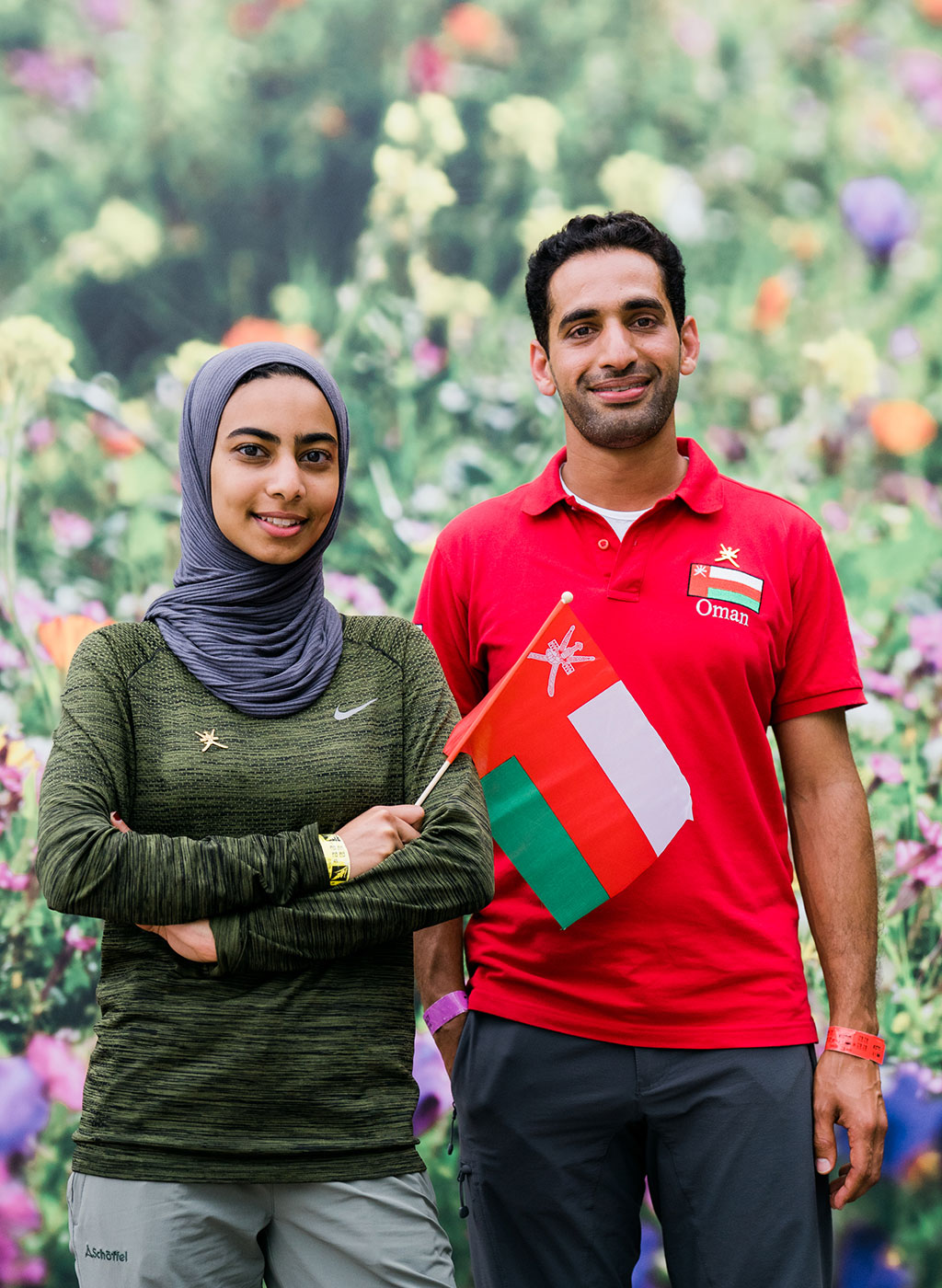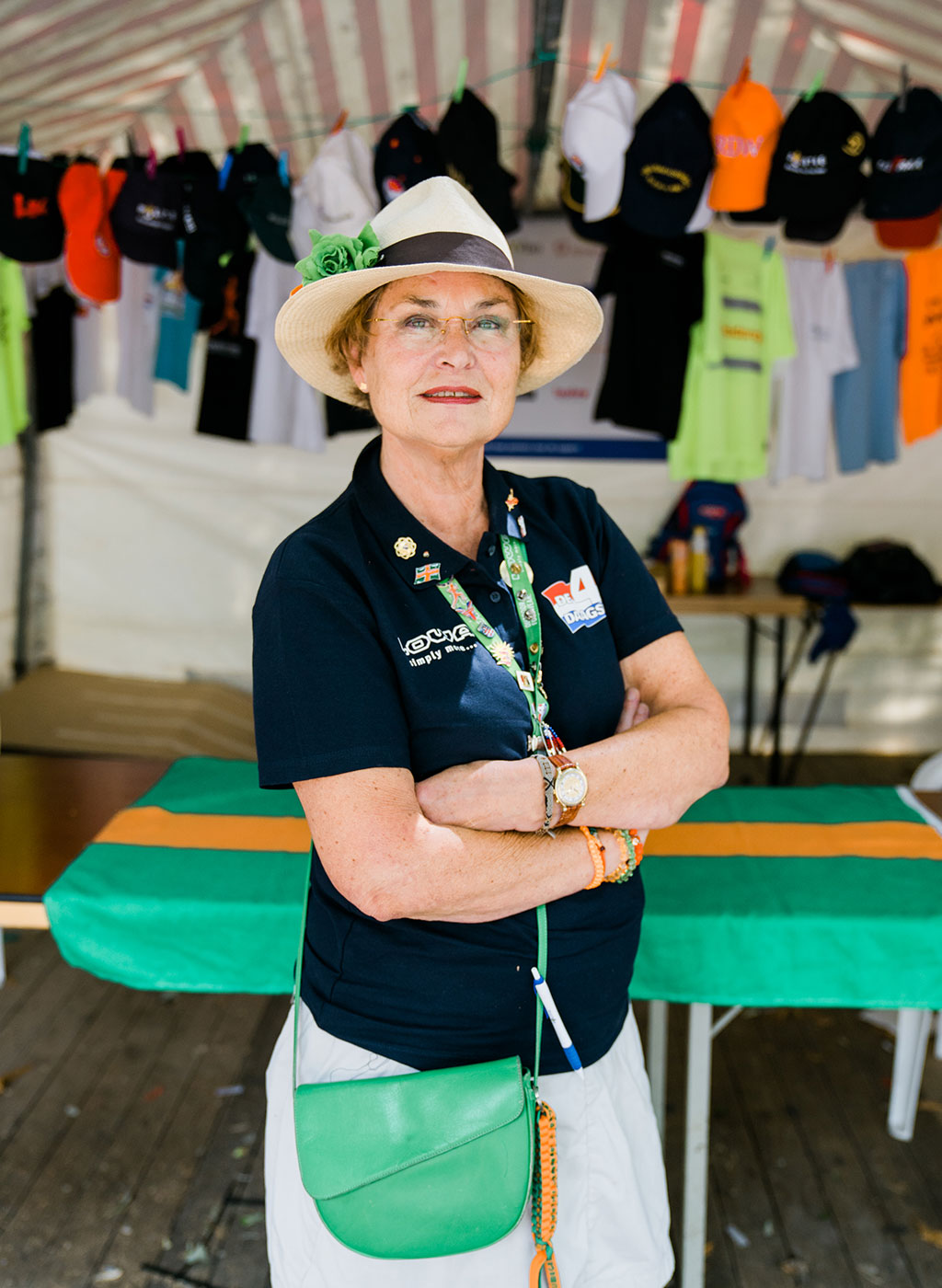 From the perspective of... the volunteer
'An incredible happening.' That's how Angelique Leijn sums up the Four Days Marches. Working from the Groups desk, Angelique is one amongst the legion of volunteers, more than 350, who make the Four Days Marches possible. Angelique: 'It's so nice to see familiar faces year after year. The platoon commanders are, in particular, loyal participants. She has a great story about one of them. 'Instead of presenting his checkpoint booklet, without noticing he gave the starting team his song book. Big panic: he had really lost his checkpoint booklet. We were able to solve that, of course, but for the rest of the week my fellow volunteers and I called him "Song Book". Ha, ha! On Thursday, at the finish we presented him with an actual song book. He really appreciated that.'
This was the 23th time Angelique has volunteered for the event. When asked how long she'll continue, she answers, 'Two years. Then I'll have done 25 editions, and that'll be just right.' She is already preparing a bit for that farewell; after all, the Four Days Marches is not something you can simply brush aside.
From the perspective of... the new lead sponsor
Dirk Schaffrath, owner-director of Lowa Benelux, found what happened to him and his team in Nijmegen simply mind blowing. Dirk: 'Unbelievable, that flood of good feeling, from everyone, the walkers, the organisers, clients we had invited and who were walking around with a big smile. People visiting our booth told us that they had been wearing Lowas for 20 years, and had even hiked the Himalayas in them.' That he and his team were hard at work would be an understatement: customers stormed the Lowa booth on the Sunday and Monday before the walk, and it was relentless on the following days too. 'Sales were brisk over the last few days, but that's not what it's about for us. We wanted to bring enjoyment, to promote the Lowa brand.'

You can certainly say that it worked too. And the highlight of the week? When DJ duo Wipneus & Pim played Lola by the Kinks and the crowd all chanted 'Lowa' instead Simply goose pimples! Mission accomplished.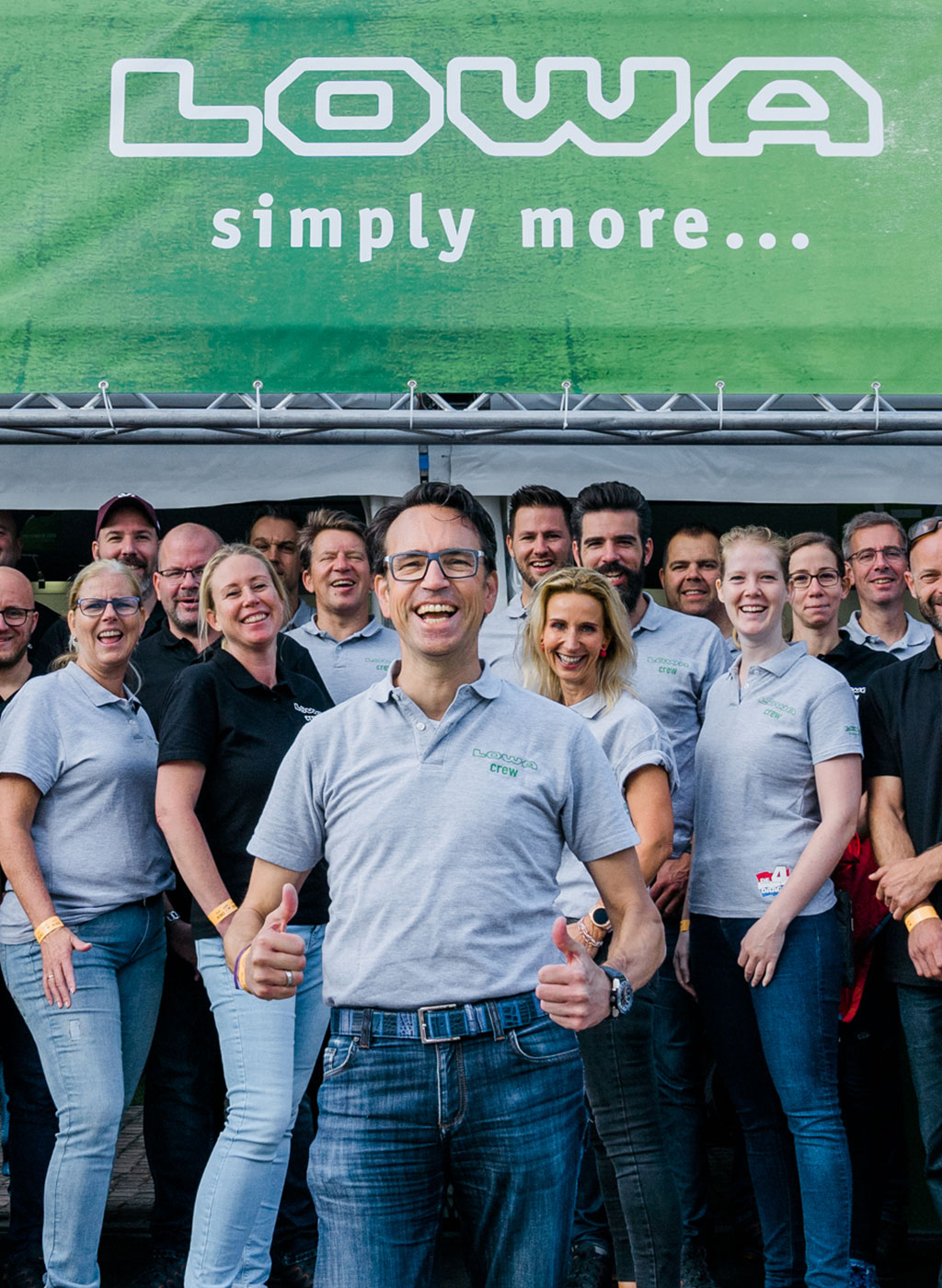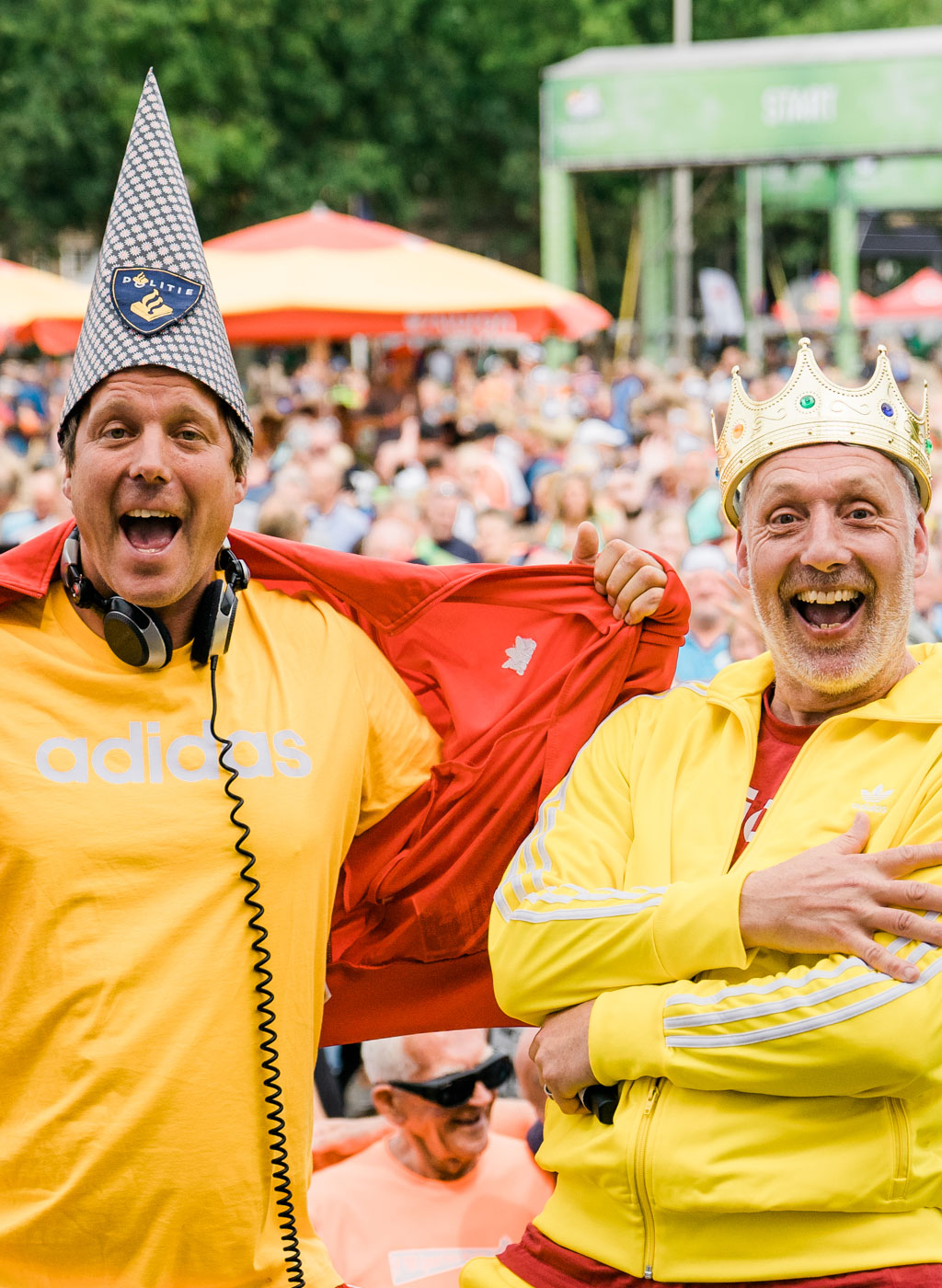 From the perspective of... Wipneus & Pim
Hats off to the organisers of the Four Days Marches: they really pulled out all the stops this year. It was one big party, but nowhere like at De Wedren where DJ duo Wipneus & Pim worked the audience into a frenzy three days running. Not to mention themselves. Bart van Rooijen (alias 'Pim', left in the photo): 'That our audience, even with all those kilometres behind them, is still able to party like that, that amazes me every time.' Edwin van 't Schip ('Wipneus'): 'What´s great about performing at De Wedren is that it's so up close and personal. There are no crush barriers here. From the stage I can literally see tears in people's eyes. I shake hands with hundreds of people during the event, and recognise at least as many faces.'

They get a lot of appreciation from the participants, and they pay that back double. Edwin: 'You feel the gratitude. There's no other show where we play a song like Foxy Foxtrot for example. Here we do though. Then you see the people who recognise that song simply beaming. We don't really realise how people look forward to our performance.' You couldn't say a truer word. And once again we've started the countdown to next year.